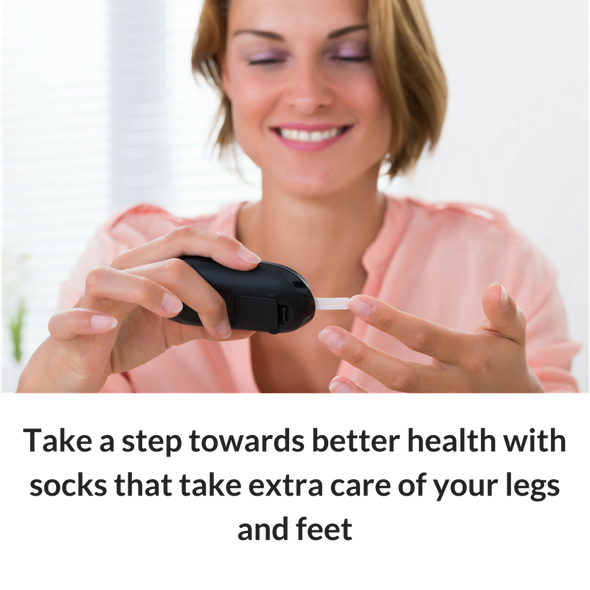 Take a step towards better health with socks that take extra care of your legs and feet
TXG diabetic socks are specially designed to alleviate discomfort, promote circulation and prevent injury and infection. Soft, lightweight and highly breathable, their seamless and padded design delivers comfort and support in all the right places. Plus, you get to select the right style to suit your needs.
Recent Australian studies warn that 15% of diabetics develop foot ulcers and that untreated foot infections are the leading cause of non-traumatic limb amputations. When you consider the facts, the benefits of wearing diabetic socks make them an obvious choice. We're pleased to say, TXG socks have helped thousands of diabetic Australians avoid such complications.
Please note: not all diabetics are suited to wearing compression socks. We suggest you consult with your doctor before buying diabetic compression socks.
Best-selling diabetic socks





TXG Cushioned Diabetic Socks
TXG Diabetic Compression Socks
Loose top socks so comfy, they're like guardian angels for your feet

Socks that help keep your legs and feet healthy - and keep you

feeling energised throughout the day
What sets TXG diabetic socks apart from the rest?
With a host of features that take into account the needs and risks of your condition, the benefits of wearing diabetic socks can't be underestimated.
Both our knee-high compression style or crew length compression-free socks are crafted from soft-fibred breathable fabrics that feel comfortable in any weather and deliver a safe and snug fit. Antimicrobial properties prevent the risk of infection and with no raised seams, your feet are protected from irritation or injury.  
Slip into your socks to feel safe, supported, and refreshed. Walk with comfort and confidence and regain your energy and lifestyle.
The TXG difference
We stand by your socks. We know you may have concerns about buying online, which is why we offer a Love Your Socks 60-day money-back guarantee.
Use our 3-step process to choose your pair of TXG diabetic socks for a happier, healthier wearing experience.           
Great prices. Quality product. Service guaranteed. Shop now. 
See how TXG diabetic socks are helping customers all over Australia live more comfortably.
Want to know what else they're saying? Find more reviews from real customers in the Reviews tab (under the Add to Cart button) on each Product Page.
Read our blog to learn more about diabetic socks and how to keep your legs and feet feeling their best.
View our range of best selling Diabetic Socks